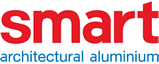 Smart Architectural Aluminium has grown over the past 40 years to become one of the UK's leading suppliers of aluminium glazing systems and bespoke aluminium extrusions.  The company has built a reputation for product innovation, design expertise, technical competence and quality.
Located in Yatton, North Somerset, at their impressive 30,000sq/m purpose built building housing their offices, extrusion presses, powder coating paint line and distribution facilities, the company has an annual turnover of over £50 million and employs 200 people.
Crofton are pleased to specify the Smart aluminium system for all your windows door and conservatory requirements
Modern aluminium windows are designed to last so it is important that you make the right choice. Smart Systems have grown to become one of the UK's leading aluminium systems company with a reputation for design expertise, product innovation, quality and reliability in the aluminium fenestration industry.


Why Aluminium?
Aluminium is a light weight, high strength material that is used is virtually every facet of the modern construction industry from patio doors in homes to curtain walling on the tallest sky scrapers. Because of these unique properties It is incredibly formable and can be bent or shaped into innumerable architectural designs. Aluminium is very durable and highly resistant to corrosion caused by modern industrial pollutants and requires little long term maintenance. The lifespan of aluminium products is measured in decades rather than years.