LivinROOF is the first roofing system designed to give you the flexibility to combine solid and glazed roofing seamlessly. It helps you extend your living space and enhance thermal performance to give you a room that you can use all year round
Whether you are constructing a new home extension or replacing an old existing conservatory roof the Liv
in
ROOF can give you total design flexibility and the ability to create stylish and thermally efficient rooms like no other solution on the market.
The LivinROOF roofing system is constructed from insulated composite external panels and Kingspan slab insulation, which are strong and robust yet extremely thermally efficient.
The Structure of the roof utilises Ultraframes market leading Classic roof system to provide strength and rigidity – and with over 1.5 million Classic roofs installed throughout the UK you can be sure it can withstand anything Mother Nature has to offer.At Ultraframe, we understand the importance of natural light in any home extension. The great feature of LivinROOF is that it can incorporate one, or a number of glazed panels that allows daylight to penetrate deep into your room, making the space instantly brighter.

The glass panels can be inserted to replace any of the aluminium roofing panels, in any shape enabling you to maximise the light in your room to produce a very contemporary design not easily achievable with other types of roofing system.
Internally the LivinROOF is stunning. It can deliver a magnificent vaulted ceiling and incorporates the LivinRoom internal pelmet around the perimeter, where lights can be installed. At the ridge at the top of the LivinROOF you can insert or hang lights in a place where you otherwise wouldn't be able to on a vaulted ceiling.
If a vaulted ceiling isn't for you then there is an option of a suspended ceiling, allowing you to continue the ceiling height from an adjoining room or to give your room a more 'cosy' feel.


Stylish, super insulated rooms you can use all year round, creating a lasting impression of an investment well made.
realROOF is an innovative roofing system that extends your living space in perfect harmony to give you the most loved room in the house. It can be used on a new built extension or even used to replace a conservatory roof. It creates a stunning, spacious vaulted ceiling on the inside, whilst matching the existing roof finish on the outside. It out performs a traditional build roof and is much faster to install
Combining the very best of British design and engineering realROOF is an exceptional roofing system that redefines the way roofs are built. Externally or internally you'll soon recognise that you are seeing superior design, superbly crafted.
Whether your home is modern or traditional the addition of a realROOF will complement it perfectly. On the Inside, realROOF delivers a magnificent vaulted, plastered ceiling to enhance the feeling of light and space. This provides you with flexibility, raising the possibility of complete harmonisation with your connecting room and décor.
It can be supported by stone or brick piers, stunning Loggia super insulated columns or its own aluminium posts. The exterior of the realROOF can be dressed with tiles or slates the same as those on your home, giving your extension the ability to seamlessly blend in with your home.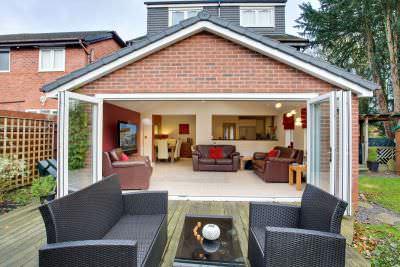 Thermally, the realROOF is second to none. Its unique design and off site manufacture ensures a superior insulating performance to that of a traditionally built roof, ensuring you stay warm in the winter and cool in the summer.
realROOFs patented box beam and Kingspan Unidek Super Insulated Aero Structural roof panels offer structural rigidity strong enough to grant unrivalled spanning performance, allowing whole elevations of windows or bi-fold doors to be installed with no additional support from portals or lintels. Avoiding costly additions that other roof types may need. This enables a much faster installation time and design flexibility to let you flood your room with natural light.
By using roof windows you can bring daylight deep into your living space, which makes the whole room feel brighter, larger and more welcoming.
• LABC approved (minimise building control checks & approval process).
• Keeps you warm in winter and cool in summer.
• Can be used with almost any roof finish
• Achieves a U-value down to 0.12 W/m²K
• Fast installation.
• Fully guaranteed.